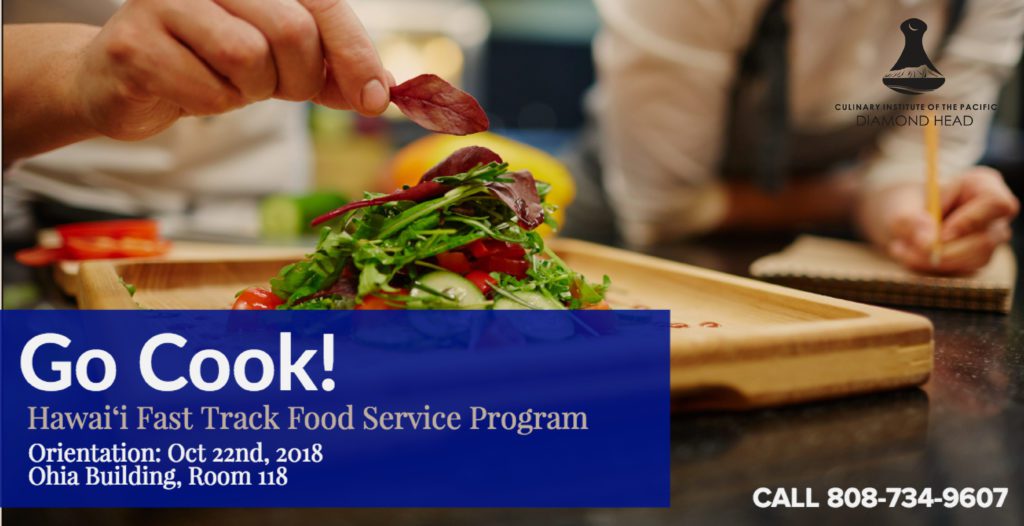 No Experience Needed | 11 week program | Ohia Building Room 118, 2:30pm Oct 22nd | Program begins Oct 26th
continuinged.kapiolani.hawaii.edu/culinary
The Culinary Arts Department at Kapi'olani Community College is offering culinary arts training free to assist anyone with an interest in entering the food service industry with the essential knowledge and skills they will need to succeed. This offer is good for the listed program dates only!
The GoCook! Hawai'i program is designed specifically to take anyone from zero to working cook in just 11 weeks. Using a proven combination of lectures, cooking demonstrations, and hands-on, practical instruction, participants will gain the knowledge and fundamental skills to become a professional cook.
All trainees who successfully complete the program will received a Certificate of Professional Developmentfrom Kapi'olani Community College, a nationally recognized ServSafe®Food Handler's Certificate, and job referrals to potential employers.
Instruction will be done by chef instructors from KCC's Culinary Arts program in the kitchens at Kapi'olani Community College. Participants will get practical training every day as they prepare ingredients and meals.
In addition, all trainees will be loaned a uniform and have access to all the necessary kitchen tools (including knives and utensils) and cooking equipment, on-site.