Certificate for Customer Service in Hawaiʻi
Office of Continuing Education and Training
This Certificate for Customer Service in Hawaiʻi is designed for existing and potential employees of Hawaiiʻs visitor industry; the visitor industry is defined as any organization whose employees have direct contact with out-of-state visitors.  These organizations include hotels, restaurants, entertainment venues, amusement parks, convention centers, airlines, tour companies, retailers, airport agencies, public transportation, government entities, museums, healthcare organizations, etc.
Certificate Eligibility Requirements
This Certificate of Professional Development is granted to learners who successfully complete all the requirements for the listed courses in this document.  (Attendance requirement: No more than 30 minutes of absence during the entire training program.)  To be eligible for the Certificate, learners must complete the entire training program and capstone project within one year.
Certificate for Customer Service in Hawaiʻi
We recommended the following training path for this program.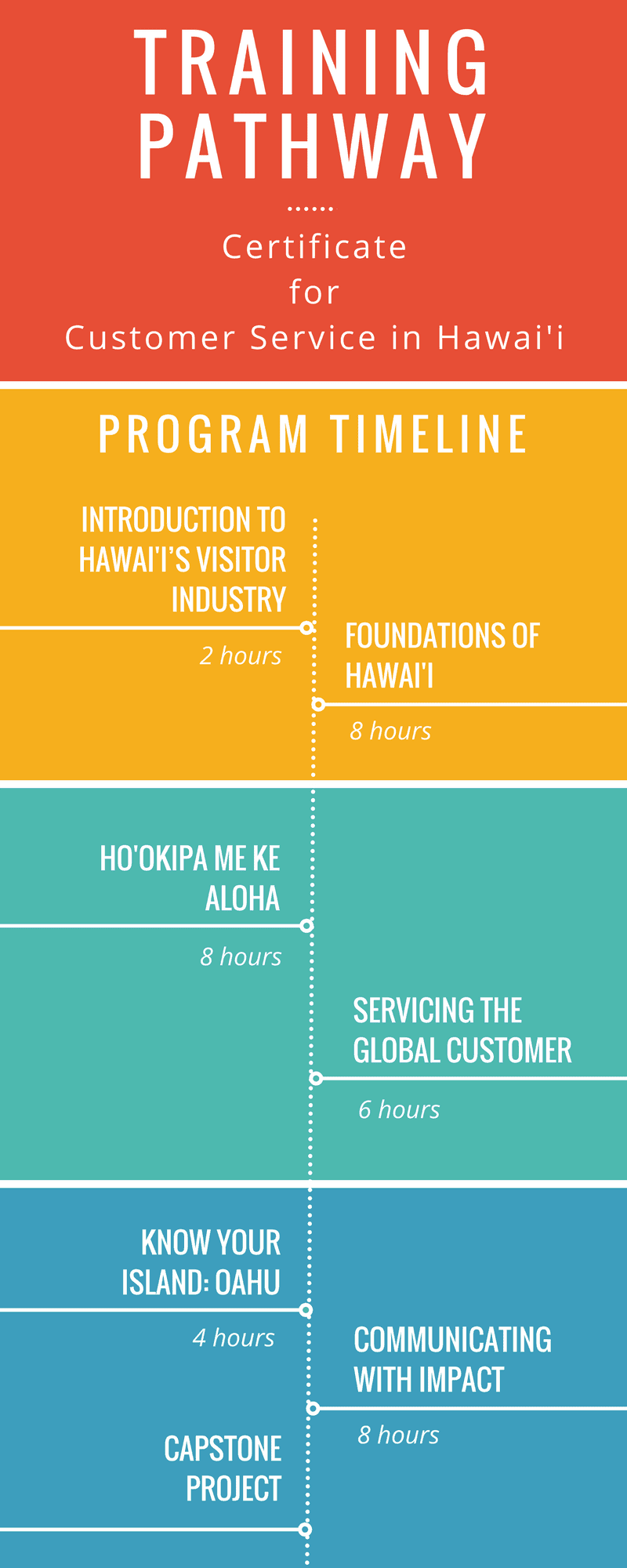 2 hours
For those who are new to Hawai'i's tourism and hospitality industry. More here
8 hours
A culture-rich learning experience based on Hawaiian language and culture, this course is designed for participants to develop an appreciation for our host culture and traditions while servicing visitors from around the globe. More here
4 hours
How much do we really know about the island we call "home"? Learn to share accurate information and stories about our island's unique history and significance with your guests, visitors and/or customers. More here
8 hours
Lucky we live Hawai'i! Many of us welcome friends, family, colleagues and visitors from all over the world to our island paradise. But, how much do we really know about our host culture? More here
6 hours
Hawai'i is known as a "dream travel destination" for people from all over the globe. Learn to demonstrate cultural awareness and appropriate customer service standards when dealing with diverse customers. More here
8 hours
Enhance important communication skills such as interpretation and storytelling when sharing stories about Hawai'i. Design customized and engaging tours for your visitors. More here
The capstone project compiles the knowledge and skills acquired during the required training courses and is designed to help learners provide evidence of adhering to service industry professional standards established by the Hawaiʻi Tourism Authority.  This project will consist of a final presentation that is submitted after the last training course.  To receive the program certificate, candidates will be expected to receive a minimum score of 75% on a capstone project covering the following topic areas:
Professional Standards as established by HTA.
Hawaiian history, language, and culture as it relates to Hawaiʻi's visitor industry.
The importance of Hoʻokipa and its relationship to Hawaiʻiʻs visitor industry.
Providing customer service to a diverse, global audience.
Demonstrate cultural sensitivity and appropriate response in servicing a global customer base of diverse visitors.
Design a customized tour based on customer preferences and island-specific interests and attractions.
Deliver accurate and respectful information about Hawaiʻi's history, culture, and language using learned communication, interpretation, and storytelling skills.
The training program design is modeled after professional standards established by the Hawaiʻi Tourism Authority (HTA). These standards are applicable to anyone who works in Hawaii's visitor industry.
In short, employees who service Hawaiʻiʻs visitors:
Represent the State of Hawaiʻi and, in essence, Hawaii's host culture.
Are expected to provide the highest standard of customer service with cultural sensitivity towards both global and local visitors .
Must uphold professional standards in terms of appearance, conversation, guest safety, sustainability, and customer service values.
Can professionally and respectfully articulate and "talk story" about Hawaiian history and culture using information from credible and reliable resources (i.e. library, published visitor books, or state-sanctioned visitor guides).
Kapiʻolani Community College owns all copyrights on developed curriculum and materials.