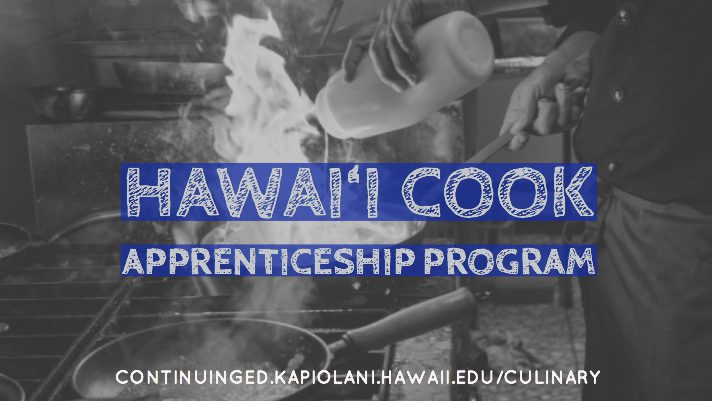 Kapiʻolani Community College is now looking for the best and brightest candidates for our Hawaii Cook Apprenticeship Program at the Culinary Institute of the Pacific, one of the best culinary facilities in the world..
Over 200 back-of-the-house employees representing over 50 restaurants in Honolulu have taken part in this incredible program since it began in May 2017. This is an extremely rare opportunity to receive FREE culinary training and increase your level of expertise on the job. This program is designed to work around the busy schedule of a full-time restaurant employee.
Lab classes are held once per week and you will attend the same class each week. Class times will be:
For more information, please see our brochure below.
Dates of program:

May 25-December 16, 2018
Orientation
 #1: Wednesday,
 5/16
 – 11a-1p in Ohia Room 118
Orientation
 #2: 
Thursday, 5/17
 – 11a-1p in Ohia Room 118
Only need to attend one orientation
Option #1:
Weeks 1-5:
Friday
8am-4pm
Weeks 6-25:
Friday
8am-2pm
Weeks 26-30:
Friday
8am-4pm
Option #2:
Weeks 1-5:
Friday
12pm-8pm
Weeks 6-25:
Friday
2:30pm-8:30pm
Weeks 26-30:
Friday
12pm-8pm
Option #3:
Weeks 1-5:
Sunday
8am-4pm
Weeks 6-25:
Sunday
8am-2pm
Weeks 26-30:
Sunday
8am-4pm
Option #4:
Weeks 1-5:
Sunday
12pm-8pm
Weeks 6-25:
Sunday
2:30pm-8:30pm
Weeks 26-30:
Sunday
12pm-8pm
To Sign Up Fill out Form Below 
"In a busy restaurant a lot of the time you just have time to teach someone how to plate. The food service apprentice program at KCC is a huge benefit by teaching the fundamental skills and core values that are indispensable in the kitchen. Great work from a wonderful program!"
Rob McDaniel
"This has had a positive impact on our food-service & staff.  Also, truly beneficial to our apprentice cook, that she's accepting a new position to cook for a larger campus. Looking forward to sending another cook in to your next session 🙂 BIG Mahalo"
Debbie Day
Click to Interact with Brochure or Download