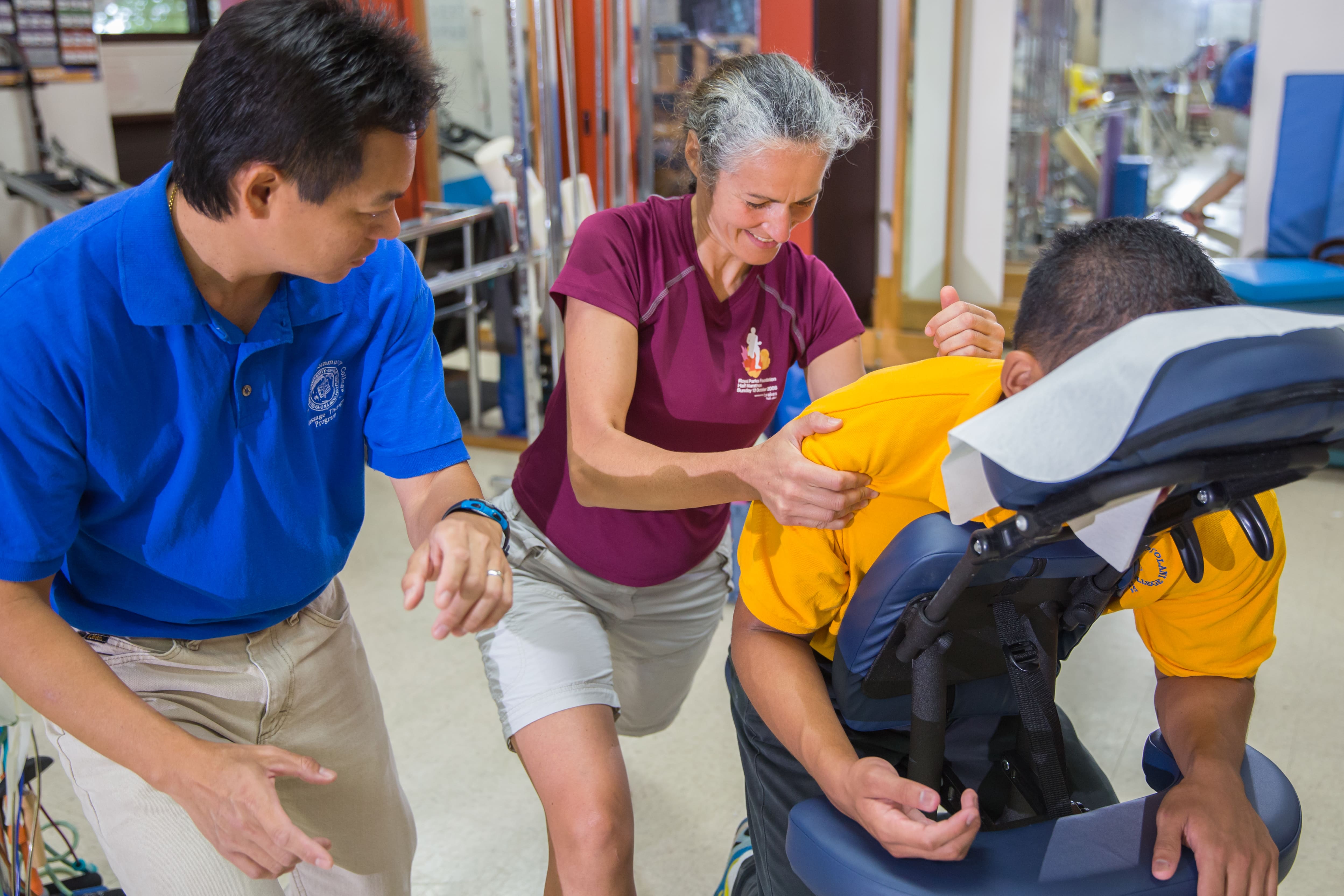 Program Details
Students who successfully complete the entire program at Kapi'olani Community College will receive a certificate of competence and be eligible to take the Hawai'i State Board of Massage License Examination as well as qualify for the Massage and Bodywork License Examination (MBLEx) for U.S. mainland states.
Our program courses meet from Monday through Thursday evenings from 6pm-9pm. Clinic practice times are flexible for students and are offered from 2pm-6pm, Mondays and Tuesdays, and all day Saturdays.
Students may enroll into the program without any academic prerequisites. However, students will need to be proficient in the English language. Also, it is highly recommended that students have had some college experience since all courses will be conducted with college-level academic expectations. Students will be enrolled as soon as payment is received on a first-come-first-served basis. The minimum payment to enroll is $395. There is limited seating for this program.
Information Sessions
Attend an information session to learn whether this program will fit your needs or not and to learn about what to expect while in the program. These sessions are free and no appointment is necessary. You simply just show up. Parking is free on-campus.
Information Sessions Dates
| | | | |
| --- | --- | --- | --- |
| April 4, 2018 | Wednesday | 4:30-6:00pm | Kauila Building – 208 |
| April 25, 2018 | Wednesday | 4:30-6:00pm | Kauila Building – 208 |
| May 9, 2018 | Wednesday | 4:30-6:00pm | Kauila Building – 208 |
| June 6, 2018 | Wednesday | 4:30-6:00pm | Kauila Building – 208 |
| July 5, 2018 | Thursday | 4:30-6:00pm | Kauila Building – 208 |
| July 19, 2018 | Thursday | 4:30-6:00pm | Kauila Building – 208 |
Curriculum and Tuition
 
Title of Course
Course Hours
Tuition
Introduction to Massage Therapy
w/ Textbooks & Liability Insurance
(Begins August 1, 2018–This course is required to be enrolled in Full Program)
15
$395
Your Body & Your Health 1
51
$490
Your Body & Your Health 2
24
$270
Your Body & Your Health 3
30
$350
Your Body & Your Health 4
30
$350
Massage Practice 1
45
$470
Massage Practice 2
45
$470
Professional Issues
30
$350
Massage Therapy Clinical Internship 1
50
$350
Pregnancy Massage
21
$240
Sports Massage
30
$350
Trigger Point Therapy
30
$350
Lomi Lomi
30
$350
Massage for the Medically Frail
30
$350
Foot Reflexology
30
$350
Acupressure/Thai Massage
30
$350
Shiatsu
18
$210
Massage Therapy Clinical Internship 2
50
$350
Total=589
Total=$6,080
We reserve the right to cancel courses due to insufficient enrollment and other pertinent factors. All dates, times, and course details are subject to change.
Learning Outcome
Upon satisfactory completion of this program, students should be able to:
Recognize the role and scope of the massage therapist as a member of the healthcare team.
Demonstrate knowledge, understanding, and application of basic principles of human anatomy, physiology, kinesiology, and pathology for massage.
Demonstrate knowledge and understanding of basic principles of documentation, ethics, legal liability, and business practices involved in a massage therapy practice.
Understand the theory and rationale for the various massage techniques learned.
Demonstrate safe and effective application of general and specialty massage techniques to meet the needs of various situations and people.
Licensure and Cerification
Licensure and Certification Graduates of the KCC Massage Therapy Program are eligible to take the Hawai'i State Board of Massage License Examination and be eligible for national certification through the MBLEx (Massage and Bodywork License Examination). Students will also receive two KCC Certificates of Competence—one in General Massage Therapy and the other in Specialty Massage Therapy.
Program Description
Massage Therapy is a personal health service utilizing soft-tissue manipulations to treat pain, improve range of motion, reduce stress, and promote relaxation. Massage therapists obtain the basic medical history for a client, assess any problems or conditions, and perform appropriate massage techniques based on the current health of the client. Licensed massage therapists may find work at spas, fitness centers, athletic teams, chiropractor and physician clinics, hospitals, physical therapy clinics, or be self-employed. Wages vary widely and can range from about $30-$100 per treatment hour.
Now in our 16th year, the Kapi'olani Community College's Massage Therapy Program is a 589 hour non-credit evening program comprised of coursework with theory, hands-on practice, competency testing and clinical experience. The length of the program is approximately 11 months long.
Course begins August 1, 2018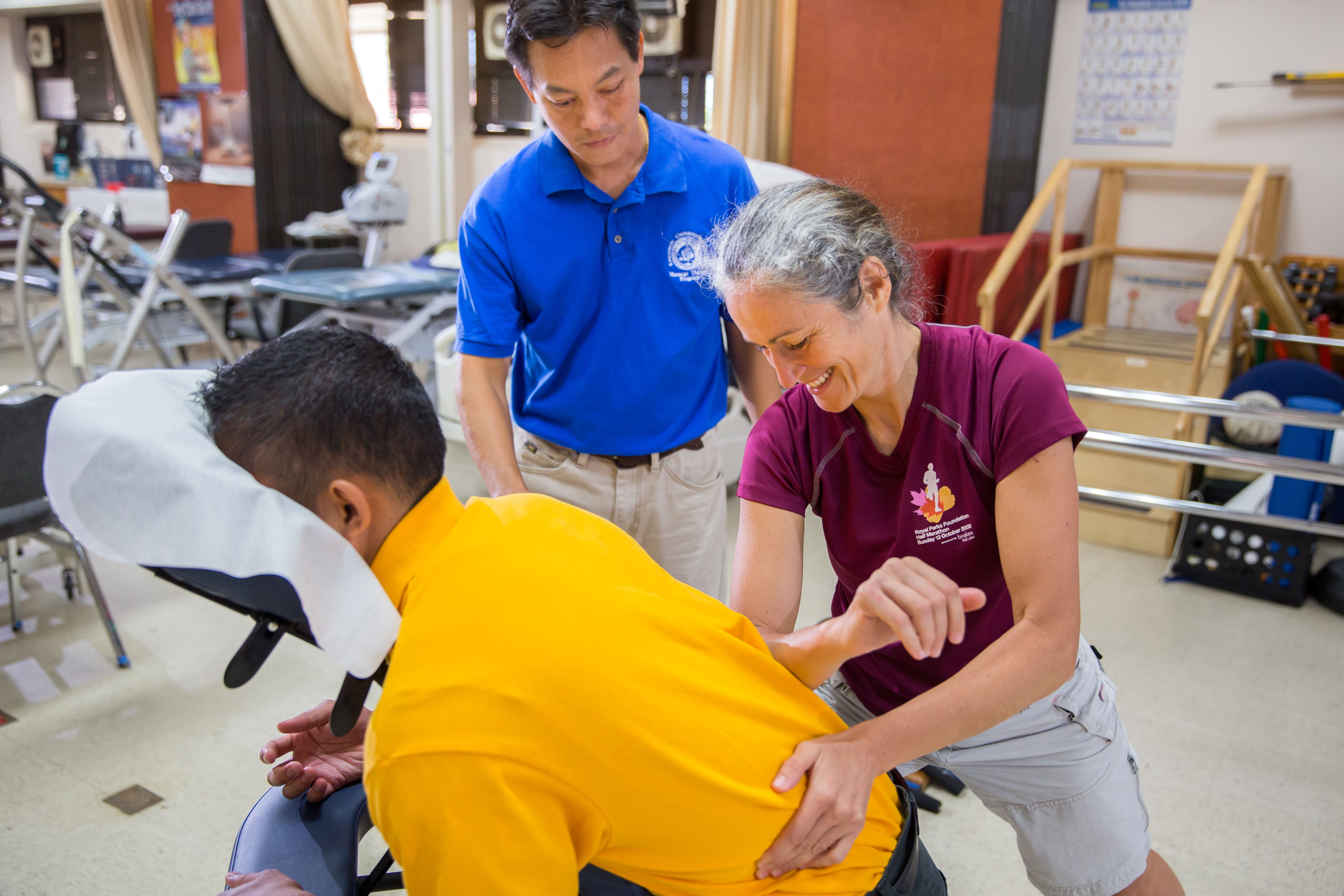 Coordinator Contact
Martin Chong
Program Coordinator
Health Department
Phone: (808) 734-9540
Email: martincs@hawaii.edu